Learnifier has recruited Marie Forsberg as Head of Sales as of August 2018. Forsberg has extensive experience in Sales positions within the sectors of education and communications. In her new role, Marie Forsberg will manage the Sales and Customer Success team serving both small and big companies who want to grow efficiently by digitizing their learning and training.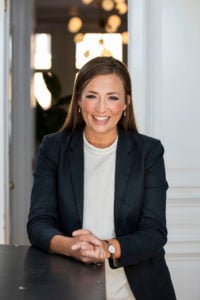 "Marie is an outstanding addition to our organization and we are confident that she - together with her team - will help us grow the number of happy customers that we are serving even faster than in the past", says Mattias Borg, CEO and co-founder of Learnifier. He adds:
"Marie has shaped sales teams in established companies within the industry, both operationally and strategically, and we are happy to benefit from both her leadership and sales skills. With her proven track record and personality, we will continue to lead the digital learning revolution that empowers people to share their knowledge by creating and distributing online training with ease."


Forsberg brings many years of professional Sales Management experience to Learnifier, together with specialized market knowledge within digital education and Communications. She recently spent several years as Business Unit and Sales manager at Educations Media Group and Sales Manager at Mynewsdesk. On why she accepted this new position, she comments:
"Learnifier is an agile, modern company that strives forward and wants to help customers embrace the challenges of digitization. Certain industries have already digitized many training activities and are ahead of their competitors, but many are discovering what a tool like Learnifier can do to increase engagement, development, and productivity.



Working in a startup, where technology and customers are key, is a dream job and it matches the values I stand for. The opportunity at Learnifier offers a perfect blend of what I've done before and what I'm passionate about, and I am so happy to be onboard early and be part of this incredible journey we have in front of us both in Sweden and internationally. I am extremely grateful for this opportunity and I look forward to achieving great results together in the future."
ABOUT LEARNIFIER
We empower companies to easily create and distribute digital, blended training - across all devices. With Learnifier, you get an intuitive tool that offers a fast, efficient way for you to create your online courses or build your academy. Since 2012, we've served over 70 small and big companies with 500.000+ participants in more than 25 countries.
For more information, please contact:
Mattias Borg
mattias.borg@learnifier.com
Tel: +46 708136840
Marie Forsberg
marie.forsberg@learnifier.com
Tel: +46 707356672
Want to know more about how to digitize training and build online courses?
Book a free DEMO meeting