The new Copy feature - a substitute for Import/Export Course Design and Course Templates
Until now, you've probably used either the Export and Import functions in the Course Builder to create a second Project that contains the same material, or you've used the Course Template method. The flaw with the first option is that if a material in the first Project is deleted it will also be deleted in Project #2.
The second method though, using the Course Template feature, don't have this issue and can be a great option to achieve an effective way to create new Projects containing the same material. But by observing how most of you work in Learnifier, changing the content and refining the design while the Course is running, we've realised that this instead means a lot of time spent on updating first the Project and then the Course Template.
So we questioned these methods and came up with a new simple feature that can function as a substitute and don't result in any of these challenges. We present to you our new feature Copy Project!

The benefits of Copy Project
A copy of the Project's material will be created, so even if you delete content from the first Project nothing will happen in the new Project
You only need to update one Course Design
You can choose from all of your Projects and their specifik Course Design and Copy the one that best matches your need
How to use Copy Project
Go into a Project you want to duplicate, click on the Copy button, rename your new Project and you're done!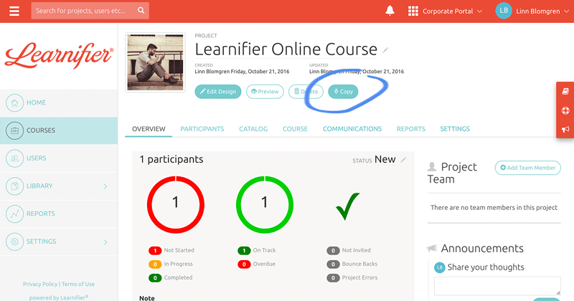 Note! Although Course Templates and Import and Export is still available in Learnifier we highly recommend you to use the new feature Copy Project to avoid problems with deleted material and to avoid wasting time on updating the Course Design in a number of different places.
Enjoy!