Hybrid. The word on everyone's lips right now. It sounds like something from the movie Terminator but as we know by now it is the term to describe this new world of work where the digital and the physical are in a marriage.
During the start of the pandemic most organizations were thrown into an "all digital" world when it came to meetings, presentations and workshops. That in itself was challenging. Now we almost find it easier to meet digitally and have forgotten how to meet in person sometimes. :)
Now onto the next challenge. How do we succeed with hybrid meetings?

Beata Wickbom is a Swedish influencer when it comes to digitalization. She is a Digital Strategist, Advisor and Speaker and a great and frequently hired Moderator, and winner of the prestigious Swedish award Moderator of the Year.
She is also the Founder of The Job Gym, helping organizations becoming great at hybrid work.

She is always generous with sharing her knowledge on social media. We found this little gem of a post on her LinkedIn where she talks about her experience from conference room cameras and hybrid meetings and asked if we could share it in this Merry Learning Calendar door.
So here it is! Thank you Beata! :)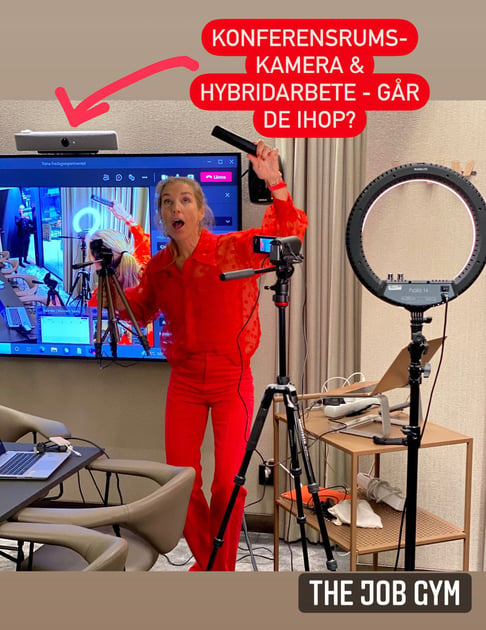 Conference room camera & hybrid meetings do not work ❌🎥

Last week I conducted a larger hybrid experiment where we, over TEAMS, connected two groups who sat in their own meeting rooms (with conference room camera), one group in an open co-working area (5 people around a computer with webcam) and 3 people by their own computers from another location. In total we were 20 people.
MY BIGGEST INSIGHTS:
🔆 Avoid using a "conference room camera"
in video conferencing if there are more than 4 people in the room.
The faces become too small and unreadable in the box for the others sitting by their own computer (and are "big in the box"). It will be very difficult to read facial expressions and see who is talking.

All research shows that we need to look natural to be perceived as "real" and close.
Natural in this case means that all faces are approximately equal in size in the box.
🔆 Let everyone in the meeting participate with their own computer or mobile in the video meeting

This so they become more visible, feel closer and can use the chat.
🔆 Please let the participants in the meeting room use the sound of the conference equipment.

It requires everyone to turn off the sound on their own computers or mobiles so there will be no roundabout (piiiiiip). If not, use an external audio puck (for example Jabra).
🔆 Set the scene for good moderation
.As a Moderator (my role in this experiment) I tested - as you can see in the picture at the top - to have my own video camera + good lighting so that I would be as visible to them in the room like all the other participants. It worked great.
(The alternative would have been your own computer with a good webcam, but a separate camcorder gives a better full screen).

Merry meetings from Beata!

Want to get access to the whole Merry Learning Advent Calendar
with 24 doors filled with tips related to learning.
Sign up by clicking the button below!