Hi Boris, what do you do at Learnifier?

– I am a Product Designer. My job is to design our product to meet the needs and expectations of our users. I strive to make the time users spend in Learnifier as productive, pleasant and valuable as possible.
Exciting! What does it mean and what do you do on a daily basis?
– I am in charge of designing our tech platform's user experience (UX).




Daily I work together with my colleagues of front and backend developers on doing iterations of current design/UX and creating new designs when new functions are added.

My days depend on the state of the project I'm currently working on. It can be research for a new function, interviews with customers, prototyping or delivering graphical assets to developers.

How do your days look like now and where do you work (location)?


– I work from my home office in Hässelby in Stockholm. During the days my two cats and two dogs keep me company until my wife and my children come home from work and school.




Boris' four home office pets

How did you end up doing what you do and working here at Learnifier?
– Well, as a child I wanted to be an artist. I loved to draw and paint. And as the internet, computers, video games came out so began my love for technology, computers and design.




I started working as a graphic designer which I loved and then gradually also started working with user experience – two areas closely related today. I have learned all I know today on my own by being curious, reading books, taking online courses, but mostly from cooperation with other talented colleagues.




What is your main super power and how has it helped you now during Covid?
– Always trying new things. A great way to break the "Groundhog day" feeling of Covid is to make every day a bit different (editor's note: Very famous film starring Bill Murray).


Dog Owning is hardly a super power, but having company and the daily walk or run in the forest certainly helps. 🐕🐕


Which are some of the big work challenges you have faced during Corona and have you overcome them? How?
– It can feel isolated in my role at times. It can be hard to initiate contacts with no "agenda" – just meetings to socially interact, maybe laugh and talk about the everyday. When we are all remote, we miss out on all those lunches, talks by the coffee machine etc.

Also – sometimes to lead myself and keep the energy up is a challenge.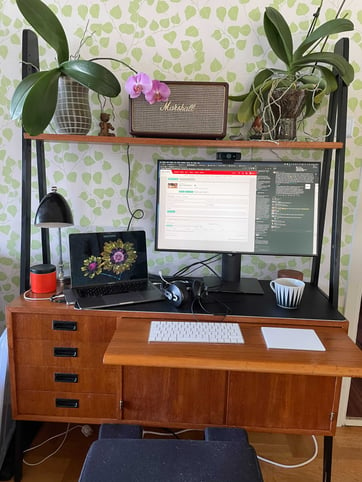 The home office space


What is good about working remotely?

– I get to spend more time with my cats and dogs. There is more flexibility in life with no commuting. Less stress in the everyday. It is also easier to mix work with courses for example. You can work and study and you set up your own work hours. Also, I save thousands of SEK on dog day care :)
What have you learned? 3 pieces of advice for others.
1. Create routines that are supportive. When you lead yourself, it can be difficult.
At the physical office "it at least looks like you are working." ;)
When you are at home, there is no "surveillance". Nice to have freedom, but also hard.
You have to have discipline and routines. I have set up routines for my days. Every day I write down one goal that is going to be the main focus.

2. Participate as much as possible in social activities when the opportunity arises.
Totally ok to be in the background sometimes and just listen at a digital coffee break for example.

3. Take the time to learn in everyday life. Check out YouTube. Take advantage of the time you do not have to commute. Not just in terms of work. Take some micro-learning breaks during the day for energy.
How will your dream work situation be in a few months?

– The dream is to redefine the meaning of an office. Maybe we could have a space like a sports hall where you can re-arrange the furniture and the rooms for what you want to do and how you want to work that day. I know I will want to see my colleagues again to meet, brainstorm etc maybe 50 % of the time, perhaps before lunch, and then work from home the rest of the day. I would love to have a mix of both.
About Learnifier
We are the leading Learning Platform in the Nordics.
Since 2012 companies and organizations of all sizes use our platform to quickly and easily create and share courses for – among other things – onboarding and training of employees, customers, partners, members and other groups they want to reach with their knowledge.