To wrap up 2020, we asked our customers what they would like to learn more about in 2021. The results are in, and the winning topic is … e-learning.
We know, it truly is a confusing term, even though it's been around forever. What does it really mean? And is it still a thing or in fact obsolete in today's digital universe? This is our two cents on one of most commonly used expressions in our business.
Electronic learning doesn't sound too inspiring, does it? Well, that's what e-learning literally stands for. When the term started popping up in the late 1990s, it referred to a revolutionary way of exchanging learning materials between professors and students. However, the digital possibilities very soon outgrew the expression along with its early definitions. And needless to say, we have come a looong way in the last 20 years.

But what's the actual problem here?

Truth be told, each time we hear someone say "e-learning" nowadays, we instantly get the heebie-jeebies. Perhaps because we've been around for a long time, but more likely because the term truly belongs on the digital graveyard. It just embodies the early days of traditional classroom learning in an online environment. One-dimensional, limiting and technically ancient stuff come to mind, and it's hard to oversee these things when there is so much more to it in our modern era of digital learning.

Just like we won't say "electric cars" in the future (since all cars will be electric), we believe that e-learning soon will be replaced by a much more suiting expression: learning. Because when done right, a digital transformation is not an alternative to "the real thing", but a strong complement and an enabler for pushing knowledge forward.

However, since "e-learning" refuses to go away without a fight, we would like to present what the infamous opening letter should, could and can stand for today.
Behold, the new definition of e-learning by Learnifier!
As of 2021, e-learning stands for a cluster of magical words beginning with the letter E, sent from the well of wisdom to enhance knowledge and learnability in new exciting ways. Engagement, empowerment, encouragement, excitement, evolution, easiness, edge and expansion – just to name a few essential elements.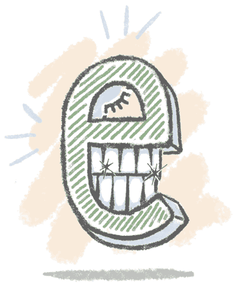 This is what you want to be looking for on your learning journey ahead. Learnifier's soul ambition is to enable you to bring all of it to life as a natural part of your offering. Using our simple yet powerful tool, you can easily start creating your own digital route and keep adding the e's that are most important to you. Or any other letters for that matter! The possibilities are endless. See, yet another great e-word …
We are passionate about learning and absolutely love being part of the tech revolution that is changing how, when and from whom we learn – even the very perception of learning.

And since we're all about making the complex easy, we also have a way snappier definition of "e-learning according to Learnifier" to leave you with. It pretty much says it all:
E-learning – short for Exponential Learning.
Are you ready to skyrocket your knowledge and learnability?

/ Your friends at Learnifier