We at Learnifier gave up our office at Södermalm in Stockholm in March 2021. Now all of our employees are fully remote. Every week we talk to one of our Learnifiers to get a glimpse into their everyday work life, and get their take on remote work and best learnings for productivity and good health. This week we talked to Hanna Iversen, our tech-savvy Head of Customer Success
Hi Hanna, what do you do at Learnifier?

- I work as Head of Customer Success.

Exciting. What does it mean and what do you do on a daily basis?

- I have a very mixed role, which I appreciate having. In the end, it's all about taking care of our customers and making sure they succeed.

My days consist of many meetings! I lead our customer success team so there are team meetings, 1to1:s etc. A large part of my job is also to help our customers with technical integrations.

When we get a new customer, they usually have a world of different systems, for example an HR system, and here I help them structure how they get Learnifier to seamlessly work in between the systems.

I also have workshops with our customers to help them get started with Learnifier and train them in all of our functions. I work very closely with the product team and convey requests from our customers to them. When we at Learnifier create a new function, we love to involve customers who need the function and who can then be involved in testing which is great.


"I managed to get the place in the living room while my husband got to work in the walk-in closet when the Pandemic broke out."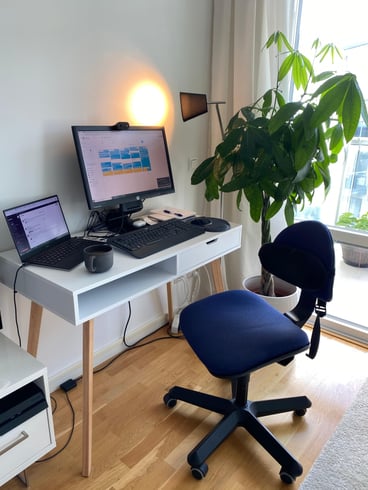 What do your days look like now and where do you work?

- I work from my home office in Älvsjö (Editor's note: South of Stockholm city).
I managed to get the place in the living room while my husband got to work in the walk-in closet when the Pandemic broke out. :)

We always have a team check-in in the morning where we say hello, talk about anything and everything and tune in to today's agenda. We started this digital morning meeting the first day when we started working from home and it has been very important to us as a team. It really has become a substitute of the meeting at the coffee machine in the morning.

How did you end up doing what you do and working here at Learnifier?

- I have previously worked at companies that were in the expansion phase, which I think is very fun!
I have worked for over ten years with helping customers or employees in a variety of roles.
I have been a Team Leader, Project Manager, I have worked with writing requirements specifications, I have been a system owner, a sales person, worked with processes and organization etc.
After being in companies that have been in the expansion phase, I have had the opportunity to experience many roles!

During the years I have repeatedly seen the need for customer focus and customer satisfaction. It goes fast when the company is in an expansion phase and having continued committed customers and getting them on the road is incredibly important.

My trip at Learnifier started with a call from Marie Forsberg, our CCO, and we had a coffee together. My previous Manager at Boule Bar recommended me to her (she was no longer Manager there, otherwise she would not have done that - I think). :)

I was happy in my previous role at Boule Bar where I worked as a Support Manager but as soon as I met Marie and our CEO Mattias Borg I felt it was a great opportunity.


"Most of the time we all keep video on - it is second best to meeting in person and makes for better meetings."
What is your main super power and how has it helped you now during Covid?

- My super power is to organize and streamline my working hours. During Corona, I have not had any travel times, which has meant that I have had time for so much more in one day.

Which are some of the big work challenges you have faced during Corona and have you overcome them, how?

- We have gained some new colleagues during Corona, which has been a challenge as the interviewing and onboarding has been done digitally. You want to give him/her a good start and impression of you, build a relationship and help them quickly find their way and feel like they contribute . Luckily I have had a great tool to help me, it's called Learnifier. ;)
"Your brain always wants to check the email first
but resist and great things will happen!"
What good aspects have you found working remotely?

- You get a lot more done both at work and privately, and you gain a lot of time.

Something I appreciate is that everyone has gotten "a digital kick in the ass", we have seen a great change in individuals who have had to learn / go over to working and having meetings via digital tools. They have now seen how well it actually works! Before we could travel to many different places to do onboardings for example.

It will be very exciting to see what the other side of the pandemic will look like.

What have you learned? Advice for others?

Lunch walk, plenty of small breaks, do not get stuck in front of the screen!

One piece of advice I received, which I tried to keep, is to start the day with one of your most important to-do:s, maybe a "surdeg" as we say in Sweden, something that you may not feel like doing and/or is quite hard or time consuming. You do this before you open up the email, Slack or similar. This gives you the feeling that you have achieved / progressed in your working day. But it is very difficult because your brain always wants to check the email first - but resist and great things will happen!

How will your dream work situation be in a few months?

In a couple of months, I hope to be in a 50/50 situation where you can both work efficiently from home but also get to meet and get energy from your colleagues and customers. Something happens when you see each other!


Interview by: Rebecca Cannerfelt
_______________
About Learnifier

Learnifier is the leading Learning Platform in the Nordics.
Since 2012 companies and organizations of all sizes use our platform to quickly and easily create and share courses for onboarding and training of employees, customers, partners, members and other groups they want to reach with their knowledge.
Read more at www.learnifier.com
Curious about working here?
Visit our career page