All aboard!
The way we go about our daily lives and business is changing for good. In some ways, perhaps even for the better. But remote work done right requires more than the occasional webinar or Zoom meeting.
To connect the dots and truly benefit from the digital landscape, you will need to update your entire tool box.
Good thing it is so much easier than you might think.

In this time of social distancing and restricted travelling, you still have an opportunity to embark on the perhaps most important adventure of your business life – the digital learning journey. Rather than a forced solution to a temporary problem, this transition will add tremendously to your offering in the long haul. And in the post-pandemic future, the last thing you want to be is stranded at the station while your competition has long taken off on the digital express.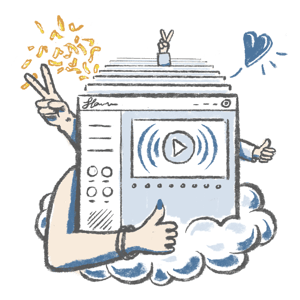 Utilizing the right tool or platform to create and share learning experiences is indeed a lot like catching a first-class ride on a smooth high-speed train. And in addition to being fast, comfortable, highly intelligent and designed to serve your every need, the learning tool will also save you a ton of money.
Learnifier expertises in blending digital solutions with human interaction and would love to assist you in shaping your own route to success. Our powerful, multi-featured yet simple tool allows you to create dynamic learning experiences for customers, partners and employees.
Empowering wishes from Learnifier
Let's make each learning experience unreal!