Hi Michele, what do you do at Learnifier?
– I am a Support Engineer.
Exciting. What does it mean and what do you do on a daily basis?
– I have two main tasks. The first is to develop Learnifier, so, coding. The second is to solve the technical problems of our customers. I spend about 50 % of my days on development and 50 % in contact with customers. I really enjoy having a combination in my work.
What are your days like now and where do you work from?
– Up until now I have worked in a co-working space in Stockholm called "The Castle". It is a great beautiful space right opposite the Swedish Royal Castle. There are several floors with desks and meeting rooms everywhere and a lot of exciting people. Authors, writers and business owners work from here, making it a very exciting and creative environment.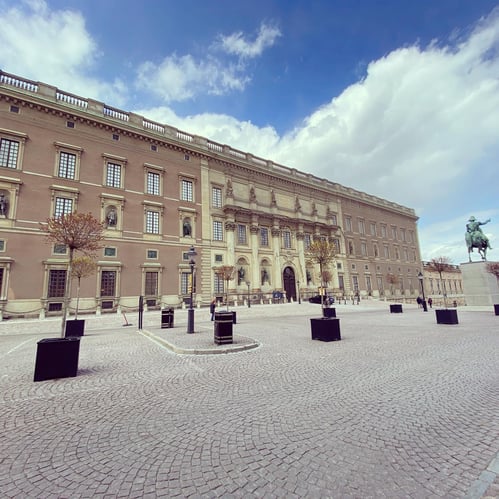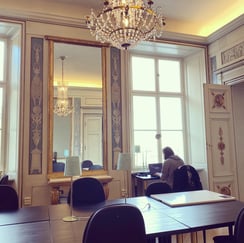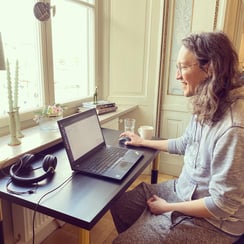 On a typical day, I travel by collective transport to and from Gamla Stan/The Old Town where the office is. I start around 09 and leave at around 18.


"Studying is easy for me. The pandemic took away a lot of fun things, but I could turn to studying to feel a sense of purpose and being busy."


How did you end up doing what you do and working here at Learnifier?
– Before Learnifier I was unsatisfied in a role where I could not see the impact of my work and had no contact with the end users. So I was applying for positions where I could have this and I got two good offers at the same time. Learnifier I felt offered a better and a more exciting work environment, and I really feel I made the best choice!
What really made me decide was the warm feeling I felt at my interview with Jerker, my manager. I remember him walking into the meeting room with a big black mug with a skull on it (being a rock fan) and I thought "this is really a place where I can be myself."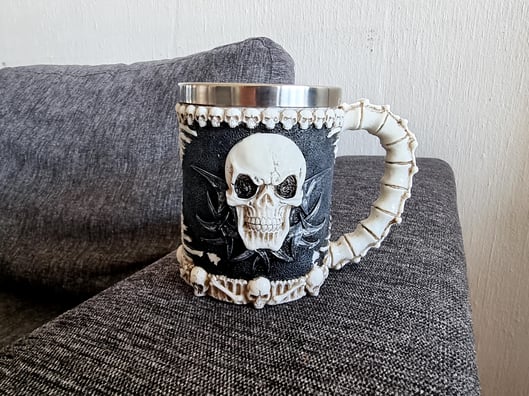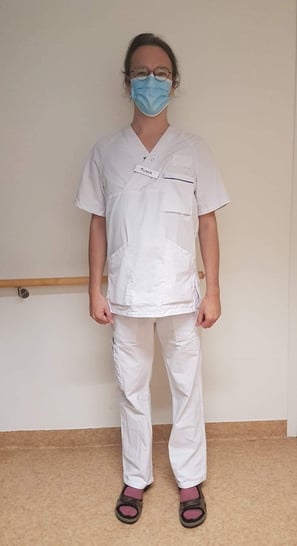 What is your main super power and how has it helped you during Covid?
– Studying is easy for me. The pandemic took away a lot of fun things, but I could turn to studying to feel a sense of purpose and being busy. For example, I started to take a Master in Computer Science and one in Psychology. I also felt when the pandemic broke out that I wanted to help in society in some way. So, I also started studying to become an Assistant Nurse, with the idea I might be able to work some weekends from time to time.
Which are some of the big work challenges you have faced during Corona and have you overcome them? If so, how?
– The biggest challenge was when we had to leave the office in Slussen. My mental health would have suffered greatly if I spent all my days alone at home. I am thankful to my boss Jerker for giving me the opportunity to work here at The Castle.
What good aspects have you found working remotely?
– Remote work is the best! I save time and it is actually easier to talk and work with colleagues.
What have you learned? Advice for others.
– If you are a person who loves social interaction, make sure to create the amount of human contact you need. Maybe it means working next to some of your colleagues (in corona-friendly places), at a café surrounded by talking strangers or at a co-working space.
What's your dream work situation in a few months?
– I hope I will be able to continue working remotely – part or all of the time. I would love to work from abroad, maybe moving to different countries.

P.s. Michele is on 2 months leave over summer to be a Clinical Psychology Intern at Careful Apps.
Very exciting!
_______________
About Learnifier

We are the leading Learning Platform in the Nordics.
Since 2012 companies and organizations of all sizes use our platform to quickly and easily create and share courses for – among other things – onboarding and training of employees, customers, partners, members and other groups they want to reach with their knowledge.
Read more at www.learnifier.com
Curious about working here?

Visit our career page!