Hi Marcus, what do you do at Learnifier?

– I work as a Sales Representative.

Exciting. What does it mean and what do you do on a daily basis?

– I speak with people from a lot of different companies and organizations about how to create learning that engages and over time improves business results. For example, creating smooth preboarding and onboarding programs for new employees like Pinchos does, creating an internal learning academy like Aditro or a company that sells training programs wishing to digitize parts of or all of their training like Great Leaders.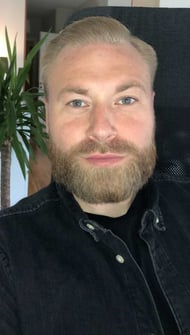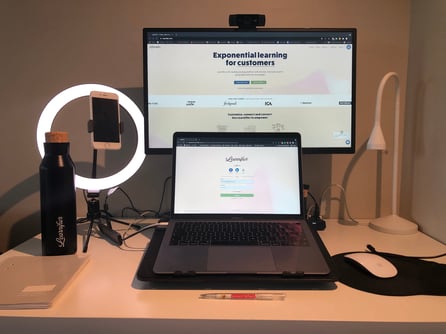 What's a day like for you now and where do you work from?

– I work from my home in Gustavsberg, the Swedish Mecca of Porcelain :)
My apartment has a good floor plan so I could easily fit a desk and a comfortable chair in the living room that is now also my home office.

A typical day usually consists of preparing for client meetings, having the meetings (the most fun part of the day), follow-ups and also some prospecting of new potential markets and clients. As Learnifier fits a wide range of end users, the market is pretty big and fun to work in.

Occasionally, I work from a podcast studio or from my sunny balcony.

(Editor's note: Marcus is part of a podcast called DIFpodden, a podcast for supporters of the Swedish sports team, Djurgården).

How did you end up doing what you do and working here at Learnifier?

– For many years, I worked within a Swedish retail chain, Coop. After that I ventured into the world of sales and IT as I took a job at Pingdom as the company's only sales executive for all of EMEA and APAC. That was a great experience for me and I brought a lot of knowledge with me to use at Learnifier.

After about 2 years there I was found by Learnifier, and at my first interview with my Manager, Marie, I really got a good feeling about her and the company in general. Learnifier had a great product I could really vouch for and see others benefit from.

I liked that the company had existed for a few years and now was in a Scale-up phase which felt very exciting. Also that there are great opportunities for me to be involved and influence the development on the journey ahead.

There was no feeling of "kränga system" as we say in Sweden. (Editor's note: pushing people to buy a system that they may or may not need). I liked the thought of working with a product that would really help people and talking to people who want to evolve, making their everyday life better.

What is your main super power and how has it helped you during Covid?

– I consider myself a driven and social person but I also have no problem with being by myself.
That mix has ensured that I have both managed the days myself at home and been able to have a socially functioning life with relatives and friends as we live fairly close to each other.


"I've been able to play tennis and padel during my lunch breaks instead of playing the usual and only available court times at 22:00."
Which are some of the big work challenges you have faced during Covid and have you overcome them? If so, how?

– Ergonomics is one thing. At first I sat at the kitchen table. But as reality unravelled the fact we were going to be working from home for a long time, I invested in a good chair and desk.

Problem solving is also sometimes a challenge. Before Covid you used to just be able to turn around and tap someone on the shoulder to discuss or get an answer to a question.

Also energy – as I could no longer get it in the same way from my colleagues when being in the office. We started using Discord where we created a sort of office environment where you can drop in and out of voice channels to quickly start an actual conversation or just sit in and listen to your colleagues discuss a topic you might be interested in.

What good aspects have you found working remotely?

– Being able to listen to music and podcasts during the days without headphones.

The non-commute. Now, I get both to and from work a lot quicker and don't have to fight my way through snow storms and monsoons. See video below for some lovely Swedish weather.


Not having to look for meeting rooms for conversations and meetings is an advantage of being alone at home. There is only one meeting room and it's my own. :)

Also, being able to make my own lunch has been a relief for my wallet, and to be able to work out in the sun on the balcony when the weather allows.

I've been able to play tennis and padel during my lunch breaks instead of playing the usual and only available court times at 22:00.

I feel really privileged working for a humane company that really cares about its employees, which has been very clear during these times as Learnifier has gone to great lengths to help us succeed and feel good along the way.


"I'm really looking forward to meeting and working with everybody again in our upcoming Learnifier Studios."

What have you learned? Advice for others?

– Have a good workplace if you can – maybe a small separate table from the kitchen table.
Have a good desk chair, invest in some good lighting, invest in a good pair of headphones.

Try and be as social as you can by participating in the social chats – Discord (great service) or afternoon fikas (Editor's note: A holy Swedish phenomenon meaning basically social coffee time).

Activate yourself with a lunch walk, sports or walking to the supermarket if possible.

Also, there is a hack for working from sunny balconies - see video below.



What's your dream work situation in a few months?

- Some kind of 50/50 concept where we alternate between working from home or in the office to maximize the pay off of our days depending on what is scheduled. I'm really looking forward to meeting and working with everybody again in our upcoming Learnifier Studios.


_______________


About Learnifier

We are the leading Learning Platform in the Nordics.
Since 2012 companies and organizations of all sizes use our platform to quickly and easily create and share courses for – among other things – onboarding and training of employees, customers, partners, members and other groups they want to reach with their knowledge.
Read more at www.learnifier.com