Is it really possible to increase new hire retention and productivity through a well-structured onboarding - while freeing up HR resources? The answer is yes if you are ready to digitize and automate the onboarding process. Here are 8 cool automations you should use in order to run an effective onboarding with less effort.
Every start of a new employee's journey begins with some sort of onboarding. A big success criterion is how smoothly this onboarding process is performed. Additionally, with a higher employee turnover these days there is also a higher risk that your company will see dips in productivity more often. In the past year, Millennials in the workplace changed jobs three times more than their older coworkers, representing a loss of $30.5 billion in turnover costs annually. Therefore, it is worth investing in onboarding to ensure that new employees stick around.
In order to run an effective onboarding that will save you and your HR team admin time and repetitive work you need an onboarding tool. Make sure that some of the key features include automations that allow you to set a big part of the onboarding process on autopilot. This way, you also eliminate a lot of paperwork and minimize the risk of costly errors and compliance issues.
Download the Preboarding Checklist: How to excite, engage, and prepare your new hires before day 1
What is an effective onboarding?
An effective onboarding process ensures that new hires feel welcome and are able to perform independently early on. Onboarding is a great way to get a quicker return on your hiring investment, as new employees are able to add value in less time.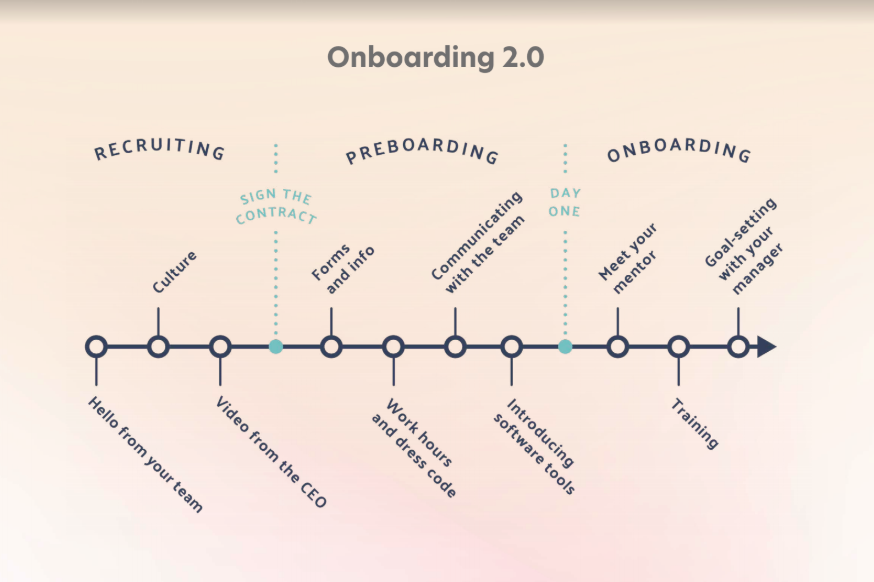 Digital Preboarding: Start Building Your Employer Brand Before Your New Recruit Has Even Started!
What are the benefits of automated onboarding?

Benefits for the company:
Saving money. Definitely something that the management team in every company loves to hear. Onboarding automation eliminates the redundancy that manual labor and paperwork brings to a process.

Saving time, especially HR's time. Much of the onboarding process is repetitive work for most hiring departments and here the new employee onboarding process can be very time-effective as it frees the HR staff from spending too much time with the new hires.

Reducing errors. This goes with the cost-efficiency of automated employee onboarding. Using onboarding automations makes you less dependent on a checklist and ensures that the right information goes to the right person.

Higher engagement. Both HR and the hiring manager can track the onboarding process and connect with the new hire in a timely manner. This not only boosts the onboarding experience, it also enables the company to proactively keep an eye on engagement and minimize 'no-shows' or new employee "ghosting".


Benefits for the new hire:
Less overwhelm. Automation done right will give the new employee the right kind of information at the right time. You should be able to push certain actions with trigger messages and track progress and learning milestones.

Boost the sense of fulfillment. The new hire will get a clear overview of the onboarding process, know what to expect when, and know when each step is completed. Also, the new hire will experience the satisfaction of "being at the same level" as other new employees, as the onboarding will be more centralized.

Full productivity fast. You really fast-forward the new hire's ability to focus on tasks related to his/her jobs. The better and faster the onboarding process is, the sooner the employee can start adding value. Automated onboarding workflow shortens the time for a person to transition from training to start working on their very first assignment.

Empowerment at his/her own pace. The rote way of employee onboarding can be extremely demanding of a new hire's time. By digitizing onboarding, you create a convenient and stress-free experience where both the new hire and the administrators get to complete the process at his/her own pace.
So, how to create an effective employee onboarding with automation?
First of all, keep in mind that employees seek a personalized and seamless onboarding experience that is free from arduous paperwork and manual effort. Businesses need to create a dynamic onboarding process that keeps people engaged and happy right from signing the contract, on their first day till the first months at work. To create a good first impression and harvest the benefits, organizations need to move away from pure manual processes and use a tool that automates many steps of the onboarding process in an effective way.
Here are 8 cool automations to make your onboarding more effective with less effort:
Automation #1: Get more new hires off to a good start
No new hire is the same. Some are eager to know more and will dive right into the onboarding. Others might be more hesitant or just plain busy handing over tasks at the former job. So, make sure to setup an automated message to go out to those new hires who haven't logged into the onboarding program yet. For instance, send them a kind login reminder after 5 or 10 days of signing the contract.
Automation #2: Increase the completion rate
Getting off to a good start in the onboarding process does not necessarily mean that your new hires will complete it. With automation, you set up your tool to identify which persons that got off track and invite them back in the process. Set up an automated email or text message and let them know that they have come this far and just need to complete the last x% to get to the onboarding finish line.
Automation #3: Celebrate that they completed the onboarding
While you nudge your new hires to stay on track, you also want to encourage them. Why not set up a celebration message to go out to those who complete their onboarding? Let them know that you appreciate their engagement and the effort and time they put into it.
Automation #4: Notify the hiring manager that the new hire has completed his/her preboarding
Make sure the hiring manager knows how far the employee has gotten in the process, and remind him/her, for instance, to contact or take a specific action towards the new hire. Timing is everything, and ease your work letting the tool "chase" your busy hiring manager.
3 Reasons Why Digital Pre-boarding and Onboarding Are Essential For Managers
Automation #5: Remind them to give feedback on the onboarding process
Setup an email with a link to a survey that you new hires receive automatically as soon as they have completed the onboarding process. Risking to send this manually with delay will lower your response rate. So, go ahead and automize to get as much feedback as possible. This is key if you want to keep improving your onboarding program and strengthen your employer brand.


Automation #6: Remind them 1 week before an event - and help them prepare
If you represent a larger company who often onboards a group of people within a given period you might be planning a face-to-face introduction day. Setup a reminder to go out automatically 1 week before the event - setting expectations and giving practical information. This is also a perfect opportunity to invite them to view some pre-event content so that they show up better prepared. BONUS: If your onboarding tool is built for social learning, have your new hires connect online before they meet IRL.
Automation #7: Fill up their calendar with key meetings
When you design your onboarding program, make sure you plan a number of key meetings with the hiring manager, the team, leaders, etc. If your tool has calendar integration like Learnifier it is easy to book upcoming virtual, classroom or lunch meetings and automatically inform all parties in advance.
Automation #8: Automate ongoing learning via customized enrollment
Preboarding and Onboarding are really just the beginning of any employee's ongoing learning. Certain roles demand a specific kind of training. You might want to enroll all new Sales employees to a Sales Onboarding after the generic one. Or enroll all new hires in a manager role to a leadership training. Set up automation for these learning flows based on the employees' user profiles - and save yourself lots of admin time.